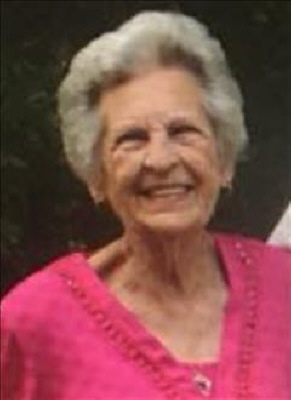 Obituary for Jimmie Lou Outlaw Domino
In the early hours of September 4th, 2018, surrounded by family and friends, Miss Jimmie quietly from this life into Eternity.

The oldest of seven siblings, Jimmie Lou was born on January 6th, 1936 at Gooden Lake to James Genteer and Bessie Bell Outlaw. She was named after her father and grandmother Lou Ella Bell.

Jimmie Lou graduated from Belzoni High School in 1955 and attended Fondren's Beauty College. On November 25th, 1956, She married her high school sweet heart, Samuel John Domino. After enlistment into the United States Air Force, they lived in Amarillo, Texas and them later to Wichita, Kansas. In 1960 Sam, Jimmie Lou , and their children returned to civilian life and moved back to Belzoni, Mississippi.

Over the next six decades, in addition to being a wife and mother, Jimmie Lou took on many additional roles. She was a Cub Scout den mother, 4-H mom, and Humphreys County School teacher's aide and bus driver. Never one to "sit still", Jimmie Lou became a business woman, using her hair styling, sewing, and artistic skills, to start three successful businesses ( a beauty shop, "The Fabric Center" and "The Country Board", respectively). In her "spare" time, she was active member of All Saints Catholic Church, where she participated on the Lady's Altar Society, Cursillo Ministry, and Saltillo, Mexico missionary trips. In addition her and Sam were foster parents.

She is preceded in death by her husband, Samuel John Domino, her parents, Buddy and Bessie Outlaw of Silver City and her brother Richard Outlaw.

Jimmie Lou's life and accomplishments are remembered and celebrated by her seven children Samuel Domino Jr.(Pam) of Huntsville Alabama, James Domino (Liz) of Hollandale, Mississippi, Marie Domino Hardin of Belzoni, Charles Domino (DeAnne) Jonesboro, Arkansas, Katherine Domino Vickery (Kent) Jonesboro, Arkansas, Margaret Domino Hawkins Belzoni, and Mary Lou Domino Jones (Jamie) Van Cleave Mississippi: remaining siblings Pat Roberts (Paul) Belzoni, Joe Outlaw (Shelia) Belzoni, Wallace Outlaw (Bonnie) Silver City, Wilma Childs Silver City, and Bessie Holeman Silver City. and her pride and joy 16 grandchildren and 16 great grandchildren.

Services will be held Thursday September 6th at All Saints Catholic Church with visitation at 10 AM followed by Rosary and Service at 11 AM. Father Lincoln Dall will officiate. Her grandsons Chris Domino, Brandon Hardin, Ryan Hardin, Steve Hawkins, Kory Hawkins, Dominica Phillips, Sam Domino, Avery Domino, and Josh Burk will server as pallbearers. Burial will follow at Gooden Lake Baptist Cemetery.

Mortimer Funeral Home of Belzoni has been entrusted with the arrangements.