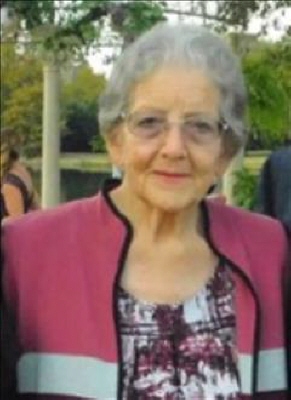 Obituary for Treva Colleen Butler Hardin
Treva Colleen Butler Hardin, 88, went to met her Lord, suddenly, on Friday August 24th, 2018 at her home.

She was born on October 21, 1929 in Isola, Mississippi to Thomas and Treva Butler. She was a faithful member of Eastside Baptist Church where she served in several capacities. She went quietly around the community and her church doing good deeds such as cooking special foods and sharing her food garden and especially her flowers which brought great joy to all. She also loved and excelled at painting and quilting. Seeing the happiness on the people's faces when presented her gift brought her great joy. Her past employments were as a florist and personal sitter.

She was preceded by her parents, husband of 48 years, Hulon Winter "Bunk" Hardin, brothers, Thomas Butler, Jr., Pat Butler and James Butler. She leaves to cherish her memories, son, Ronnie Hardin of Dardanelle, Arkansas, Marty Hardin of Belzoni, Mississippi and daughter, Brenda (Jerry) of Columbia, Mississippi, 7 grandchildren and 7 great grandchildren. She also leaves one sister, Frances Pace of Indianola, Mississippi and one brother, George Butler (Carolyn) of Satartia, Mississippi.

Services will be held at Eastside Baptist Church, Belzoni, Mississippi at noon Monday, August 27, 2018 with visitation at the church from 10:30 a.m. until the services. Internment will be at Greencrest Cemetery.

Dr. Billy Burge will officiate the services. Pallbearers will be her grandsons Ryan Hardin, Brandon Hardin, Don Hardin and Jeremy Kilpatrick and special friends, Bill Berry and Pepper Roberts.