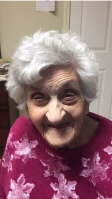 Obituary for Rosalie Brocato Kimble
Mortimer Funeral Home -Belzoni
Post Office Box 22 / 212 North Hayden Street
Belzoni, MS 39038
(662) 247-3727 Fax (662) 332-1414


Place of Residence: Kosciusko, Mississippi

Name: Rosalie Brocato Kimble

Age: 95

Died: Sunday, April 1, 2018

Occupation: Homemaker

Service Date: 1:00 PM Wednesday, April 4th, 2018

Place of Service: Mortimer Funeral Home, Belzoni, Mississippi

Interment: Greenwood Memorial Gardens, Greenwood, Mississippi


Mortimer Funeral Home -Belzoni , Establishment #: FE-293

Funeral services for Rosalie Brocato Kimble, 95, will be held on Wednesday April 4th, 2018 at 1pm at Mortimer Funeral Home, Belzoni. She passed away on Easter Sunday April 1st, 2018 at Atwood Personal Care Home with a caring and loving community of friends and family.

She was born on August 14th, 1922 in Arkansas but spent most of her adult life in Greenwood, MS. She was preceded in death by her father Philip Brocato and her mother, whom she never met, Rose Liberto Brocato.

She was a homemaker all her life and had a great love for sewing. She loved her family and enjoyed life at Atwood Personal Care.

She is survived by a daughter, Rose Farrish (Marvin) of Blackhawk, MS, two sons: Johnny "Buster" (Nancy) Carithers of Silver City, MS and Lonzo (Betty Jean) Carithers of Greenwood, MS. She had 10 Grandkids & 20 Great Grandkids.

In lieu of flowers, donations can be made to Atwood Personal Care Home in her memory.
328 Goodman Street Kosciusko, MS 39090

Visitation will be held from 11 am until the start of the service.

Interment will follow the service at Greenwood Memorial Gardens.