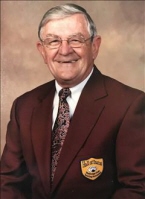 Obituary for Harold L. Sipes
Mortimer Funeral Home
711 Highway 82 East
Greenville, MS 38701
(662) 334-4519 Fax (662) 332-1414





Harold L. Sipes, 80, of Greenville, died Thursday, March 8, 2018
at Delta Regional Medical Center.
He was born October 14th, 1937 in Jeffersontown, Indiana; the son of Sidney Sipes and Cressie Icenhower Sipes.
Harold grew up in Shepherdsville, Kentucky. He briefly lived in El Paso, Texas, prior to moving to Greenville, where he owned and operated his dry cleaning business for 57 years. Harold was inducted into the Mississippi Sports Hall of Fame as a bowler. He was the former president of the Mississippi Bowling Association, and a former board member at Guaranty Bank and Trust.
He was preceded in death by his parents; brother, Sidney Sipes, Jr.; and half-sister, Carolyn Wallace.
Survivors include: wife, Beverly Sue Grisham Sipes; five children, Stan (Vanessa) Sipes of Panama City, FL, Gary Lee (Vivian Douglas) Sipes of Brandon, Renee (Mack) McGaugh of Cross Plains, TN, Robert (Deborah) Sipes of Greenville, and Todd (Kay) Sipes of Greenville; half-sister, Linda Kendrick of Louisville, KY; half-brother, Roy Sipes of Calhoun, GA; grandchildren:Lee and Laura Sipes(mother Charla Sipes and Stan Sipes),Brian and Lauren Sipes(Gary Sipes),Cressie (Lynn)Bishop,Madelyn(Justin)­Rhodes,Jessica McGaugh(children of Renee and Mack McGaugh, Shelby(Dylan) Barbian, Sydney(Chance) Priddy,(children of Robert and Deborah Sipes), Rob(Taylor)Sipes,(child of Todd Sipes).


Visitation will be from 1-2 PM Saturday, March 10th, 2018 at Mortimer Funeral Home; immediately followed by a funeral service at 2:00 PM.

Interment will be in Greenlawn Memorial Gardens, under the direction of Mortimer Funeral Home.




Previous Events
Visitation
Mortimer Funeral Home
711 Highway 82 East
Greenville, MS 38701
Funeral Service
Mortimer Funeral Home
711 Highway 82 East
Greenville, MS 38701
Burial
Greenlawn Memorial Gardens
Highway 82 East
Leland, MS 38756