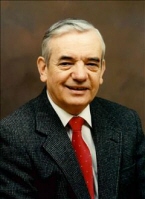 Obituary for Victor Paul White
Fowler Funeral Home
210 South Main Street
Brinkley, AR 72021
(870) 734-3311 Fax (870) 734-3312


Victor Paul "Vic" White, 92, of Cotton Plant, Arkansas, passed from this life on Tuesday, February 20th, 2018. Born on August 10th, 1925, in Marionville, Missouri, to Ben C. White, Sr., and Florence Hendrix White, he was the youngest of four boys, James E. (Helen) White, Arthur E. (Berniece) White, and Ben C. (Dorothy) White, Jr.
Vic graduated from Cotton Plant High School in 1943. He went to Texas A&M for one year, and then joined the United States Navy for basic training in San Diego, California. Vic studied radio training at Annapolis, Maryland, and served on Guam for a year during World War II. After his honorable discharge, he returned to Louisiana State University and earned a degree in Electrical Engineering, graduating in 1949. He married Patricia Hill from Cotton Plant in 1950 and were married until her death in 2000. They had two children, Jeffrey White (Louisa Castillo), Beltsville, Maryland, and Susan White Robinson and special son-in-law, Ron, Richardson, Texas, and three grandchildren, Amanda Emeline (Ryan) Schell, Madison White, and Heather Robinson. Vic retired in 1990 after 39 years with Raytheon in Dallas, Texas.
Vic married Elizabeth Chilson Muse of Cotton Plant in 2001, and they resided in Cotton Plant. In addition to his two children, he had two adored step children, John (Wendy) Muse, Lewisville, Texas, and Georganne Muse, Flower Mound, Texas.
Vic is also survived by his beloved wife, Elizabeth, his two children and two step children, 3 grandchildren, his sister-in-law, Dorothy White, Memphis Tennessee, two nieces, Ginger (Jim) Lane and Anita (Vincent) Wellings, three nephews, Jim (Eileen) White, Dick (Wendy) White, and Bob White, several great and great-great nieces and nephews, and a host of other special extended family and friends.
Vic has been a member of the Cotton Plant United Methodist Church and the city council of Cotton Plant. His passion has been traveling with his wife, spending time in his workshop, dancing and listening to music, and visiting with his family and friends.
Visitation will be at the Cotton Plant First United Methodist Church on Saturday, February 24th, 2018, from 1-2pm and the service will be at 2:00pm, with Reverend Joe Glover officiating, assisted by Reverend Carla Thompson. Burial will be in the Cotton Plant Memorial Cemetery. Memorials may be made to the Cotton Plant United Methodist Church or the Cotton Plant Memorial Cemetery. The family would like to thank the Des Arc Nursing & Rehabilitation Center, Arkansas Hospice and two special cousins, Susan Berry Winkler and Sarah Berry Ward.