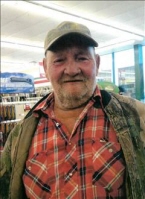 Obituary for Matt Levine Norwood











Matt Levine Norwood, 56 of Wheatley, Arkansas, passed away March 4th, 2018 at his home. He was born June 27th, 1961 in Holly Grove, Arkansas.

Those remaining to cherish his memory are spouse of 38 years, Debbie Norwood; sons Matthew Norwood of Wheatley, and Michael Norwood of Wheatley; daughter, Amber (Donnie) Morgan of Clarendon; brothers James (Francis) Norwood of Aberdeen, Ray Norwood of Wheatley, Ronnie Norwood of Wheatley, and Steve Norwood of Marvell; sisters Betty Crosson of Brinkley, Sadie Norwood of Wheatley, Cindy Norwood of Wheatley, and Sheila Norwood of Clarendon; grandchildren Gabby Turner of Helena, Brittney Elliott of Helena, Jesse Turner of Helena, and Jericho Morgan of Clarendon; great-grandchildren Jacob Elliott of Helena, Derek Elliott of Helena, Ayden Elliott of Helena, and Oliver James of Helena. Matt held a special place in the hearts of his honorary family, including, Cody Caskey, Hunter Eoff, Joey Jordan, Taylor Jordan, Clint Jordan, Logan Jordan, Loranzo (Mary) Jordan; along with a host of other family and friends.

Preceded in death are parents, Jessie and Mary Elms Norwood; daughter Kelly Turner; brothers Randy Sherill, and David "Sambo" Norwood.

Visitation will be held at Fowler Funeral Home Tuesday from 6pm - 8pm with services on Wednesday at 2pm at Wheatley Baptist Church.

Previous Events
Viewing
Fowler Funeral Home
210 South Main Street
Brinkley, AR 72021