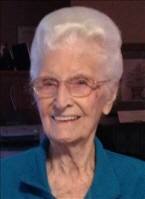 Obituary for Mary W. Poole
Mortimer Funeral Home
711 Highway 82 East
Greenville, MS 38701
(662) 334-4519 Fax (662) 332-1414


Place of Residence: Evansville, Indiana

Name: Mary W. Poole

Age: 97

Died: Sunday, June 11, 2017

Occupation: Homemaker

Service Date: 11:00 AM Friday, June 16th, 2017

Place of Service: MORTIMER FUNERAL HOME, GREENVILLE, Mississippi

Interment: Greenlawn Memorial Gardens

Mary W. Poole, passed away June 11,2017 in Evansville, Indiana. She was born in Shuqualak, MS.
After marrying in 1940 she moved to Greenville, MS. Where she worked with senior citizens and community action programs.

Upon the death of her husband in 1987 she moved to Evansville, Indiana where she worked with SWIRCA, United Way, and Caretenders.

She was a member of Evansville United Christian Fellowship.

She was preceded in death by her husband Otis H. Poole.

She is survived by her three children, Faye Hope, Evansville, Indiana, Glenn Poole, Hattiesburg, MS, and Sybil Mathis (Bill) Pelham, Alabama.

Four Grandsons, Glen Poole II, Clarksdale, MS, Dr.Chad Mathis ( Angie) Indian Springs, AL, Joe Mathis, Birmingham, AL, Mcgee Poole ( Megan), Lexington, KY, . Six Great - Grandchildren, Glen Poole III, Micheal Poole, Marti Poole, Abby Mathis, Ben Mathis, and Claire Poole.

A visitation will be held Friday from 10-11 am at Mortimer Funeral Home 711 Hwy 82 E. Greenville, MS followed by the funeral service at 11am. Interment will be at Greenlawn Memorial Gardens.

In lieu of flowers, donations may be made to , Evansville Untied Christian Fellowship church, Evansville, Indiana.













Previous Events
Funeral Service
Mortimer Funeral Home
711 Highway 82 East
Greenville, MS 38701