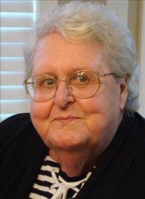 Obituary for Mary Evelyn Moffett
Fowler Funeral Home
210 South Main Street
Brinkley, AR 72021
(870) 734-3311 Fax (870) 734-3312


Place of Residence: Brinkley, Arkansas

Name: Mary Evelyn Moffett

Age: 79

Died: Sunday, July 9, 2017

Occupation: Grocery Store

Service Date: 10:00 AM Friday, July 14th, 2017

Place of Service: Fowler Funeral Home, Brinkley, Arkansas

Interment: Pleasant Valley, Moro, Arkansas



MARY EVELYN MOFFETT OF WHEATLEY, ARKANSAS
Mary Evelyn Tackett Moffett, 79, of Wheatley, died July 9, 2017 at Forrest City Medical Center, Forrest City, AR.
She was born February 28, 1938 in Selma, TN, the daughter of Cecil Tackett and Jewel Kirk Tackett.
She owned and operated Moffett's Grocery Store for over 40 years in Wheatley.
Ms. Moffett was preceded in death by her parents; husband, Paul D. Moffett; and two sons, Paul D. "Buster" Moffett and Jessie Moffett.
She is survived by five daughters, Gwendolyn Moffett Hooper (Randol) of Tuscaloosa, AL, Belinda Moffett Yarbrough (Morris) of Cotton Plant, Marsha Moffett Corona of Brinkley, Sherry Moffett Koon (Jason) of Beebe, and Tammy Moffett Reynolds of Brinkley; two brothers, Bobby Tackett of Portland, OR, and Roy Tackett of Brinkley; one sister, Brenda Sanborn of Bend, OR; 13 grandchildren and 23 great grandchildren.
Visitation will be held 6:00 PM TO 8:00 PM Wednesday, July 12, 2017 at Fowler Funeral Home, Brinkley.
Funeral Services will be 10:00 AM Thursday, July 13, 2017 at Fowler Funeral Home, Brinkley.
Interment will be in Pleasant Valley Cemetery, under the direction of Fowler Funeral Home.
Register online at www.fowlerfh.com or Fowler/Brown Funeral Home on Facebook.

Previous Events
Visitation
Fowler Funeral Home
210 South Main Street
Brinkley, AR 72021
Funeral Service
Fowler Funeral Home
210 South Main Street
Brinkley, AR 72021