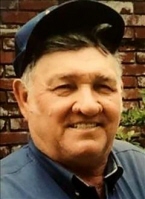 Obituary for Leroy Frank Fought
Fowler Funeral Home
210 South Main Street
Brinkley, AR 72021
(870) 734-3311 Fax (870) 734-3312


Leroy Frank Fought, 86, of DeValls Bluff, Arkansas, died October 1, 2017.


He was born June 23, 1931 in Jasper Alabama to the late Lester and Missouri Sanderson Fought.


While he resided in DeValls Bluff, he spent the majority of his life in the Lee County area.


He was Church of God by faith.


Leroy retired from Douglas and Lomson Company, where he was a welder for many years. After retirement you could always find him outside working on vehicles, lawnmowers, or any other types of machinery.
Leroy loved his family and and his two dogs Cricket and Libby. He loved to hunt and fish and enjoyed spending time with his family camping or any other outdoor outings.
Leroy was always spending quality time with his children and grandchildren teaching them the ropes of life.


He is preceded in death by his parents, a son; William Fought and daughter; Sandy Berry.


He is survived by his wife of 45 years, three sons; Glenn Edward Fought of North Little Rock, Arkansas, Richard Leroy Fought and wife Andrea of Lonoke, Arkansas, and Timothy Leroy Fought and wife JeanAnn of DeValls Bluff, Arkansas; two daughters, Barbara Kay Fought Cullum and husband Bill of DeValls Bluff, Arkansas and Shirley Jean Fought Crossland and husband William of Paragould, Arkansas; one sister, Mary Ryer and husband Ralph of Palestine, Arkansas; 13 grandchildren and 16 great grandchildren.


There will be a visitation at Fowler Funeral Home in Brinkley, Arkansas Tuesday, October 3, 2017 from 3:00 pm to 4pm and a Graveside service at Oak grove Cemetery in Moro, Arkansas immediately after.


You can register online at www.fowlerfh.com or Fowler - Brown Funeral Home on Facebook.