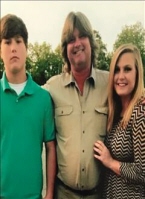 Obituary for James Scott Kelley
Mortimer Funeral Home
711 Highway 82 East
Greenville, MS 38701
(662) 334-4519



Service Details

Funeral Services for James Scott Kelley, 50, maintenance technician, Greenville, will be 12:00 PM Wednesday, July 19th, 2017 at Mortimer Funeral Home.
A visitation will be held from 10:00 PM - 12:00 PM prior to the service.
Interment will be in Lakeview Gardens Cemetery.

James Scott Kelly passed away Thursday, July 13th, 2017.

Scott was born on December 25th, 1966 at King's Daughters Hospital in Greenville.

He is preceded in death by his father James Daniel Kelley, and daughter, Kristina Faith Kelley.

He is survived by two children Kiersten and Dillon Kelley of Greenville; Mother, Dorothy Tackett of Mesquite, TX; sisters, Angela Kelley of Mesquite, TX, Brenda Blake of Safford, AZ, Peggy Duclos of Lubbock, TX; brother, Steve Tackett of Fort Worth, TX; fiance, Mary Catherine Farrar of Monroe, LA; and a host of nieces and nephews.

Register online at www.mortimerfh.com or Mortimer Funeral Home on Facebook.




Previous Events
Visitation
Mortimer Funeral Home
711 Highway 82 East
Greenville, MS 38701
Funeral Service
Mortimer Funeral Home
711 Highway 82 East
Greenville, MS 38701