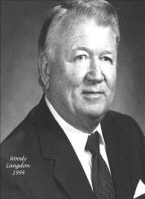 Obituary for Haywood Waggoner Langdon
Mortimer Funeral Home
711 Highway 82 East
Greenville, MS 38701
(662) 334-4519 Fax (662) 332-1414


Haywood "Woody" Waggoner Langdon Jr., 81, of Greenville, died Wednesday, April 12, 2017 at his residence.
He was born near Leland, MS on December 6, 1935 the son of Haywood Waggoner Langdon, Sr. and Opal Grable Langdon. He graduated from Greenville High School in 1954; served in the USMC for 3 years then attended Glendale Community College in Glendale, CA. He returned to Greenville and went to work for Friedman Steel in 1959; he retired after 44 years as General Manager. He married Margie Gant McCaffrey on December 16, 1972 in Cleveland, MS.
He is preceded in death by his parents, Haywood Waggoner Langdon, Sr. and Opal Grable Langdon Maranto; son, Jon Langdon; granddaughters, Starr Lofton, Jade Lofton, and Haylee Froelicher.
He is survived by his wife, Margie Gant Langdon; daughter, Joni Langdon of Pearl; step-daughters, Delisa (Mike) Homan of Greenville, and Tracy McCaffrey of Vicksburg; Step-sons, Randy (Penny) McCaffrey of Vicksburg, and Tommy McCaffrey of Drew; brother, Jim (Linda) Langdon of Greenville; sister, Peggie Jansma of Rogers, AR; 10 grandchildren; and 11 great grandchildren.

A vistation will be held from 1-4pm Saturday, April 15th, 2017 at Mortimer Funeral Home.
Previous Events
Visitation
Mortimer Funeral Home
711 Highway 82 East
Greenville, MS 38701